Airecel Restaurant
---
Where Passion for Food Meets Warm Mediterranean Hospitality
---
Welcome to Airecel Restaurant, an enchanting culinary oasis nestled within the Aimia Hotel, right in the heart of Port de Soller, one of Mallorca's most picturesque villages.
---
Our unique dining venue, that  offers two distinct atmospheres, providing the perfect setting for every occasion. Bask in the Mediterranean charm of our light-filled terrace surrounded by  our garden, or indulge in the contemporary elegance of our air-conditioned interior space.
Whether for a business lunch, a meeting with friends or a romantic dinner, the Airecel restaurant welcomes diners seeking a culinary experience in Port de Sóller.
---
Step into our inviting and relaxed atmosphere, a tranquil retreat just steps away from the bustling streets of Port de Soller. Our dedicated team is here to provide exceptional service and personalized recommendations, ensuring a great experience.
---
And to make your visit even more convenient, we provide complimentary private parking for all our guests. 
---
We eagerly anticipate welcoming you to Airecel Restaurant, where exceptional cuisine and heartfelt hospitality converge. 
MEDITERRANEAN SOUL
---
The culinary style at Airecel is the Mediterranean cuisine, proposed in a different and more contemporary version.
Our chef Mateo Lobillo and his team combine the traditional majorcan cuisine with modern Mediterranean influences, to offer our customers a real gastronomic experience.

---
FRESH, SEASONAL & LOCAL FLAVORS
---
We believe that a destination should be more than just a place to visit; it should be an experience to savor. With this philosophy in mind, our gastronomic proposal is thoughtfully crafted with carefully selected fresh, seasonal, and local products.
Our culinary creations highlight the extraordinary quality produce that the region abundantly offers. Indulge in a symphony of flavors that reflect the essence of our beautiful surroundings.
A GASTRONOMIC EXPERIENCE FOR EVERY MOMENT OF THE DAY
In the morning we welcome our guests with a varied buffet style breakfast and a great coffee selection perfect to boost your day.
​At lunch we invite our guests to try our tasty snack menu in a relaxed atmosphere and casual environment.
In the evening we prepare ourselves for a more elegant and romantic service, where our chef Mateo Lobillo and his team will surprise you with unique creations. And of course, you can also enjoy our extensive selection of national and international drinks as well as our delicious cocktails at any time of the day.
---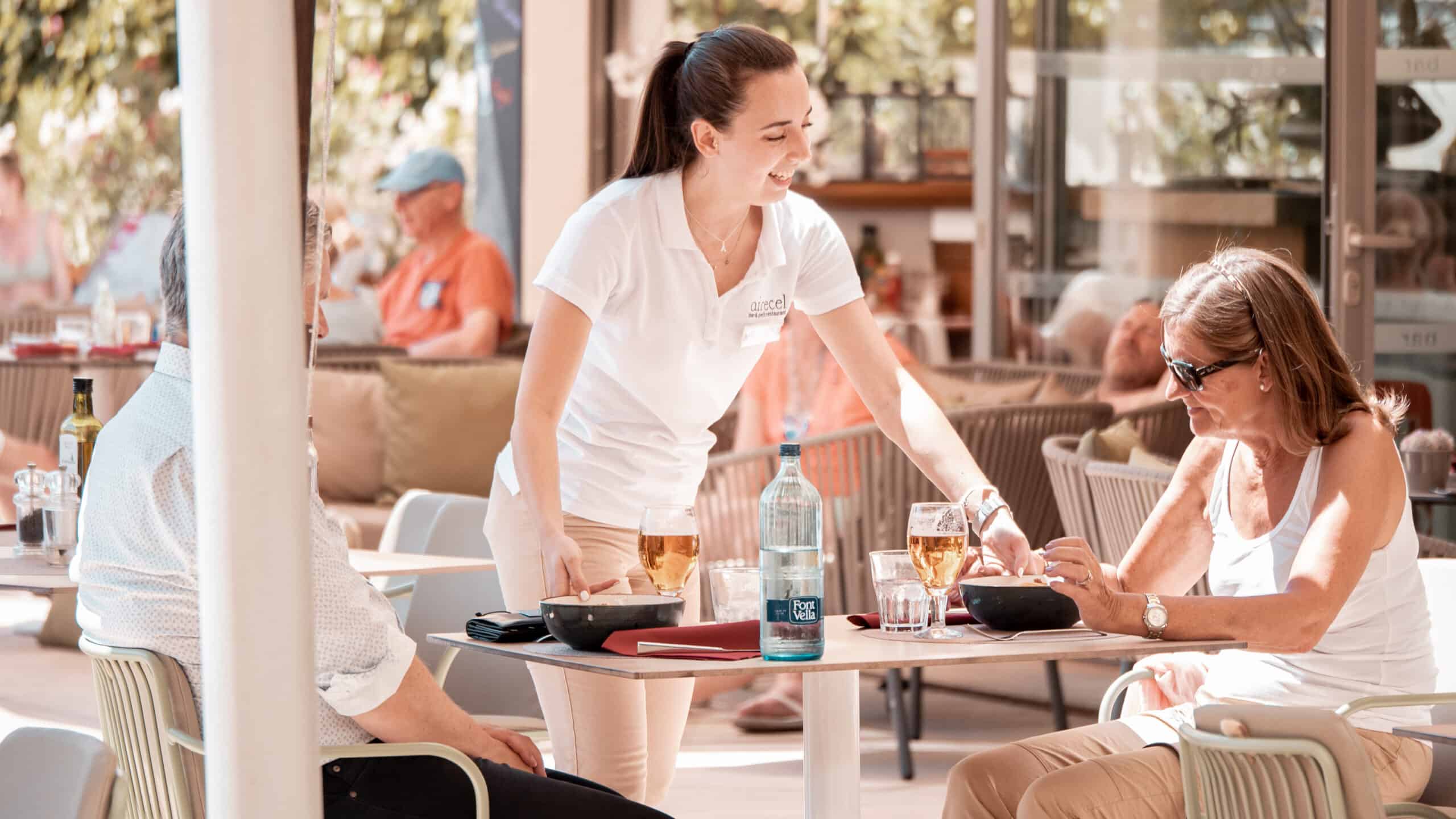 The Smiling Artists Behind Airecel Restaurant's Success
---
Yazmina
With us from the beginning of our journey, Yazmina shines as the epitome of warm hospitality. Always with a welcoming smile, she delights in assisting our guests and sharing her expertise to ensure a memorable dining experience. Trust Yazmina's expert guidance as she offers the finest recommendations to enhance your visit at Airecel Restaurant
---
Mateo
Our Culinary Maestro and Architect of Unforgettable Dishes. As our Chef de Cuisine, Mateo masterfully crafts culinary wonders that leave our guests captivated. With an artistic flair and a passion for culinary innovation, he curates unique and tantalizing dishes that celebrate the flavors of the Mediterranean. Allow Mateo to take you on a gastronomic journey that will leave you savoring every bite and eager to return for more
---
Juanma
Our Culinary Innovator and Smiling Sous Chef. As the second arm of our chef Mateo, Juanma adds his creative touch to our kitchen. With an unyielding passion for culinary exploration, he fearlessly experiments with flavors to craft new and exciting dishes. Juanma's infectious smile and positive energy create a vibrant atmosphere that resonates with our team and guests alike.
---
Cati
Our Cheerful Waitress and Master of Mojitos. A cherished member of our team for many years, Cati's infectious happiness radiates through her service. Known and adored by our guests, she takes delight in creating unforgettable experiences with her warm and attentive demeanor. Besides her impeccable service, Cati also has a hidden talent for crafting excellent Mojitos, adding a refreshing twist to your dining pleasure.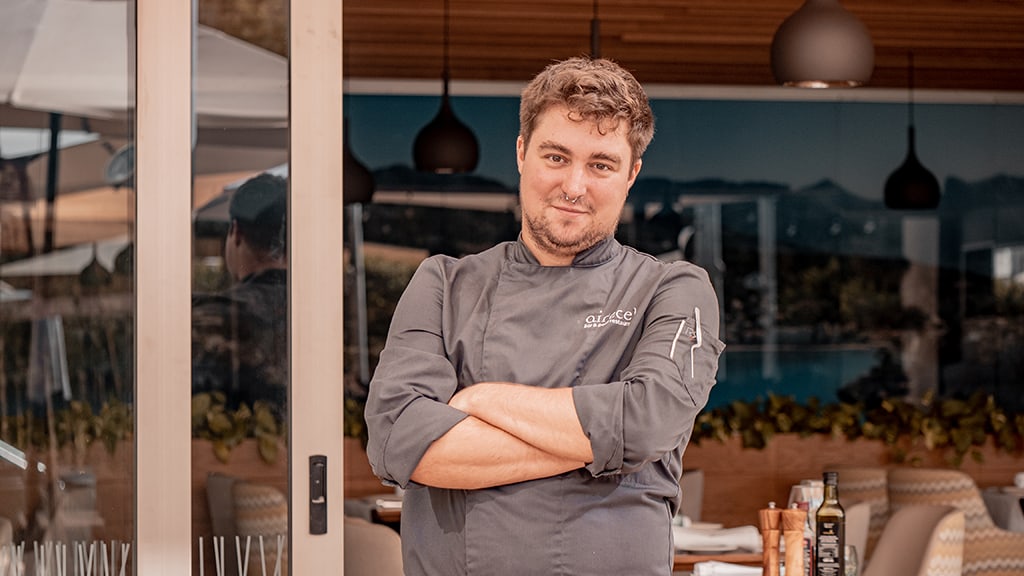 ---
Teo
Our Talented Chef de Partie and Mallorcan Culinary Prodigy. Hailing from the beautiful island of Mallorca, Teo's culinary prowess knows no bounds. As one of our Chef de Partie, he adds an extraordinary touch to every dish he creates. With an unwavering dedication to his craft, Teo embraces every opportunity to support his team and continuously seek new techniques to enchant our guests.
---
United by Passion...
We Are One Big Family, United by a Passion for Hospitality and Gastronomy. At Airecel Restaurant, we share a common mission to provide you with an exceptional dining experience filled with warmth and genuine hospitality. Our diverse and dedicated team takes immense pride in serving you with a smile, ensuring that every moment spent at our restaurant becomes a cherished memory.